Let's face it, we all get super confused when it comes to picking books for reading challenges. It's just one of the struggles of being a book lover. So, I'll be organizing a bunch of posts, each one dedicated to a book category to help you (and me) read as many great books as possible this year!
---
Book Before Movie
So many books are being turned into movie adaptions and you don't know where to start? Never fear, Noura is here to help you!
A Wrinkle In Time by Madeleine L'Engle
Meg's father had been experimenting with this fifth dimension of time travel when he mysteriously disappeared. Now the time has come for Meg, her friend Calvin, and Charles Wallace to rescue him. But can they outwit the forces of evil they will encounter on their heart-stopping journey through space? 
This was the first book that I read this year in the category Book Before Movie. The book was very fun to read, very strange and whimsical and sci-fi, and if you're into books like that than you'll probably enjoy this one.
Genre: Sci-fi & Classic      Pages: 228     Movie Release Date: March 9, 2018   
       Rating: 4★      Review
Ready Player One by Ernest Cline
In the year 2045, reality is an ugly place. The only time teenage Wade Watts really feels alive is when he's jacked into the virtual utopia known as the OASIS. Wade's devoted his life to studying the puzzles hidden within this world's digital confines, puzzles that are based on their creator's obsession with the pop culture of decades past and that promise massive power and fortune to whoever can unlock them. When Wade stumbles upon the first clue, he finds himself beset by players willing to kill to take this ultimate prize. The race is on, and if Wade's going to survive, he'll have to win—and confront the real world he's always been so desperate to escape.
I've been very excited to read this one since the beginning of the year. Have I read it yet? No I haven't. Will I read it soon? Hopefully. I'm sure this will be a really fun read. Plus, my mom loved the book and clearly, mother knows best.   
Genre: Sci-fi & Young Adult      Pages: 374     Movie Release Date: March 30, 2018
The Tale of Peter Rabbit by Beatrix Potter
Tale of naughty Peter Rabbit's adventures in Mr. McGregor's garden. 
Childish? I know. This was one of my favorite books when I was a little girl and in courtesy of the movie being released I decided to go and reread it. All 30 or so pages of it. It helps in boosting that reading challenge.
Genre: Children     Pages: 30 or so.     Movie Release Date:  March 23, 2018   
Rating: 5★
Murder on the Orient Express by Agatha Christie
What more can a mystery addict desire than a much-loathed murder victim found aboard the luxurious Orient Express with multiple stab wounds, thirteen likely suspects, an incomparably brilliant detective in Hercule Poirot, and the most ingenious crime ever conceived?
My first ever book by the queen of mystery. I spent the entire 274 pages trying to wrap my head around who could have done it. Every time I thought I got it I didn't. The ending blew me away. It was the last thing I suspected and I was quite happy with it.
Genre: Mystery     Pages: 274     Movie Release Date: November 3, 2017   
Rating: 5★      Review
The House with a Clock in It's Wall by John Bellairs
Orphaned Lewis Barnavelt comes to live with his Uncle Jonathan and quickly learns that both his uncle and his next-door neighbor are witches on a quest to discover the terrifying clock ticking within the walls of Jonathan's house. Can the three of them save the world from certain destruction?
Another one of the many books that I'm looking forward to reading. The description also has witches in it so naturally, I'm sold. It's also pretty short and can help as a reading challenge booster.
Genre: Fantasy     Pages: 192     Movie Release Date: September 21, 2018
We Have Always Lived in the Castle by Shirley Jackson
Merricat Blackwood lives on the family estate with her sister Constance and her Uncle Julian. Not long ago there were seven Blackwoods—until a fatal dose of arsenic found its way into the sugar bowl one terrible night. Acquitted of the murders, Constance has returned home, where Merricat protects her from the curiosity and hostility of the villagers. Their days pass in happy isolation until cousin Charles appears. Only Merricat can see the danger, and she must act swiftly to keep Constance from his grasp.
Many readers have praised it and others said that it was disappointing and I think the verdict is up to us. I haven't read this one yet and I haven't read any book by Shirley Jackson before. Don't really know what to expect but I guess I'll have to read to find out.
Genre: Horror     Pages: 146    Movie Release Date: 2018
The Darkest Minds by Alexandra Bracken
When Ruby woke up on her tenth birthday, something about her had changed. Something frightening enough to make her parents lock her in the garage and call the police. Something that got her sent to Thurmond, a brutal government "rehabilitation camp." She might have survived the mysterious disease that had killed most of America's children, but she and the others emerged with something far worse: frightening abilities they could not control.
Probably the most anticipated read there is for me. I love anything that spells out super powers. Most of the reviews I've seen are spectacular so here's to another exciting read!
Genre: Sci-fi & Young Adult     Pages: 488    Movie Release Date: August 3, 2018
Mary Poppins by P.L. Travers
It all starts when Mary Poppins is blown by the east wind onto the doorstep of the Banks house. She becomes a most unusual nanny to Jane, Michael, and the twins. Who else but Mary Poppins can slide up banisters, pull an entire armchair out of an empty carpetbag, and make a dose of medicine taste like delicious lime-juice cordial? A day with Mary Poppins is a day of magic and make-believe come to life!
Now I don't know about you guys but Mary Poppins is one of my favorite musicals ever! Of course the movie was released years ago but now they are making a remake! For those of us who are interested in reading this little book before the release.
Genre: Classic     Pages: 209    Movie Release Date: December 25, 2018
Fantastic Beasts: The Crimes of Grindelwald by J.K. Rowling
In an effort to thwart Grindelwald's plans, Albus Dumbledore enlists Newt, his former Hogwarts student, who agrees to help once again, unaware of the dangers that lie ahead. Lines are drawn as love and loyalty are tested, even among the truest friends and family, in an increasingly divided wizarding world.
The screenplay hasn't been released yet but for lovers of the Wizarding world this book is probably already on your TBR.
Genre: Play     Pages: Not specified yet    Movie Release Date: November 16, 2018
The Knife of Never Letting Go by Patrick Ness
Prentisstown isn't like other towns. Everyone can hear everyone else's thoughts in an overwhelming, never-ending stream of Noise. Just a month away from the birthday that will make him a man, Todd and his dog, Manchee — whose thoughts Todd can hear too, whether he wants to or not — stumble upon an area of complete silence. They find that in a town where privacy is impossible, something terrible has been hidden — a secret so awful that Todd and Manchee must run for their lives.
For the fans of Tom Holland and Daisy Ridley you may already know that these two stars will be staring in the movie Chaos Walking. What you might not know is that It's based on the book series with the same name by Patrick Ness. Already added this to my TBR pile.
Genre: Young Adult, Sci-fi & Dystopia     Pages: 479    
Movie Release Date: March 1, 2019
The Hate U Give by Angie Thomas
Sixteen-year-old Starr Carter moves between two worlds: the poor neighborhood where she lives and the fancy suburban prep school she attends. The uneasy balance between these worlds is shattered when Starr witnesses the fatal shooting of her childhood best friend Khalil at the hands of a police officer. Khalil was unarmed.
Soon afterward, his death is a national headline. Some are calling him a thug, maybe even a drug dealer and a gangbanger. Protesters are taking to the streets in Khalil's name. Some cops and the local drug lord try to intimidate Starr and her family. What everyone wants to know is: what reallywent down that night? And the only person alive who can answer that is Starr.
But what Starr does or does not say could upend her community. It could also endanger her life.
I'm reading this book with the Our Shared Shelf book club started by Emma Watson. I believe this book is important at a time like this where all these terrible things are happening in the world. We need more powerful books in the world, and Angie Thomas has just written one.
Genre: Young Adult, Realistic Fiction & Contemporary     Pages: 444     
Movie Release Date: 2018
The Bell Jar by Sylvia Plath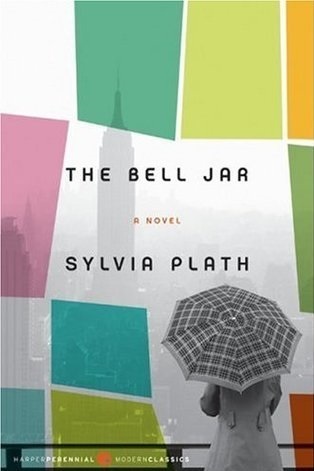 Sylvia Plath's shocking, realistic, and intensely emotional novel about a woman falling into the grip of insanity. 
Esther Greenwood is brilliant, beautiful, enormously talented, and successful, but slowly going under—maybe for the last time. In her acclaimed and enduring masterwork, Sylvia Plath brilliantly draws the reader into Esther's breakdown with such intensity that her insanity becomes palpably real, even rational—as accessible an experience as going to the movies. A deep penetration into the darkest and most harrowing corners of the human psyche, The Bell Jar is an extraordinary accomplishment and a haunting American classic.
As a Psychology student this book calls to me. The reviews I've seen are all good ones and I can't wait to finally pick up this book.
Genre: Classics     Pages: 244     Movie Release Date: 2018
That's it for this category!
If I happen to stumble across any other interesting titles I'll either update or just make a new post. Until then, happy reading!
If you've read any of these, which one was your favorite?