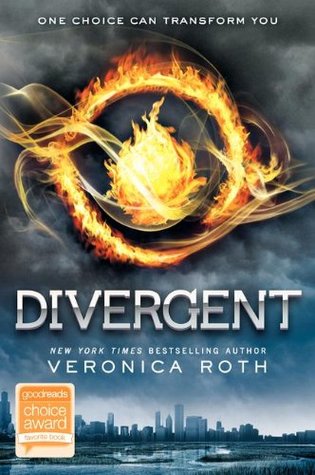 Title: Divergent (Divergent, #1)
Author: Veronica Roth
Genre: Dystopia & Sci-Fi
Publication date: Febraury 28, 2012
---
"We believe in ordinary acts of bravery, in the courage that drives one person to stand up for another."
I First read Divergent in 2014. So many people were talking about the movie at the time and I was just getting back into reading books. Once I found out that there was a book, I was determined to read it before seeing the movie.
This book was favorite for such a long time and I still consider it as such. The book was gripping! I remember going to school and coming back home with the book in my hand. Always available in case I found myself bored and needed something to read.
After The Hunger Games this was my second dystopian/sci-fi trilogy. The story kept me up at night and sometimes I even didn't get enough sleep because I kept thinking about it (my mom yelled at me for that countless of times)
"Becoming fearless isn't the point. That's impossible. It's learning how to control your fear, and how to be free from it." 
When it comes to characters, I really liked Tris. I liked that she was adventurous even though she came from Abnegation (Cant believe I can still remember that name) she was able to come out of that mold and prove that she was different. Four annoyed me just a smidge. The usual mean-mentor character. But I loved him quite a lot later on.
The story line was intriguing. I got excited every step of the way. I admit I had a hard time letting go of this book, and once it was over I made sure I got the rest of the trilogy.
---
Rating
★★★★★