Author: Victoria Schwab // Publication date: August 28, 2018
★★★★☆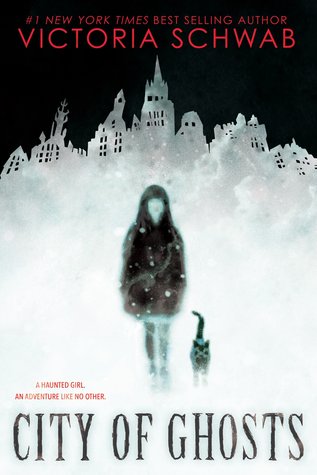 Cassidy Blake's parents are The Inspectres, a (somewhat inept) ghost-hunting team. But Cass herself can REALLY see ghosts. In fact, her best friend, Jacob, just happens to be one.
When The Inspectres head to ultra-haunted Edinburgh, Scotland, for their new TV show, Cass—and Jacob—come along. In Scotland, Cass is surrounded by ghosts, not all of them friendly. Then she meets Lara, a girl who can also see the dead. But Lara tells Cassidy that as an In-betweener, their job is to send ghosts permanently beyond the Veil. Cass isn't sure about her new mission, but she does know the sinister Red Raven haunting the city doesn't belong in her world. Cassidy's powers will draw her into an epic fight that stretches through the worlds of the living and the dead, in order to save herself.

Thank you Scholastic for sending a review copy in exchange for an honest review.
"People think that ghosts only come out at night, or on Halloween, when the world is dark and the walls are thin. But the truth is, ghosts are everywhere."
We follow the adventures of Cassidy Blake and her best friend Jacob who happens to be a ghost. What new adventure will Cass venture on this time? And will it be different than all the others?
I got approved for City of Ghosts two days ago and I still can't believe it. This book was such a spooky and fun read! If you love middle grade then this book will probably be pretty enjoyable. I've always loved middle grade books, and finding out that this book is middle grade and spooky made me love it even more.
I felt like the story was unique. I haven't gotten around to reading many books about ghosts and I'm really glad that I got to read this one. What I loved was that Cassidy is such a Harry Potter fan. The amount of HP references made me want to read the books all over again. Loved Cass and Jacob's friendship. Loved their friendship rules and just everything about them. The atmosphere that the author created in this book was superb. The places and encounters that Cassidy went through made me feel the spooky vibes (not to mention that the weather right now is pretty windy where I am)
"Stories have power," she says. "So long as you believe them."
The story was fast paced and fun to read. Would definitely recommend this book even if it is different than Victoria Schwab's other works. I have a feeling readers are really going to enjoy this. I've already ordered A Darker Shade of Magic, and I also have a copy of This Savage Song to get back home to. Really enjoyed her writing and I'm looking forward to reading all her other works.

About The Author
Victoria "V.E." Schwab is the #1 NYT, USA, and Indie bestselling author of more than a dozen books, including Vicious, the Shades of Magic series, and This Savage Song. Her work has received critical acclaim, been featured by EW and The New York Times, been translated into more than a dozen languages, and been optioned for TV and Film.
---
Blog Tour Dates:
September 5th – A Review by  Esmée @ Ezzie's Bookshelf
September 7th – A Review by Noura @ The Perks Of Being Noura
September 10th – A Review by Lily @ Sprinkle of Dreams
September 11th – A Review by Becca @ Becca Leighhanne
---

Are you interested in the book? Let me know what you think!