Author: Akemi Dawn Bowman // Published: September 11, 2018
★★★

★★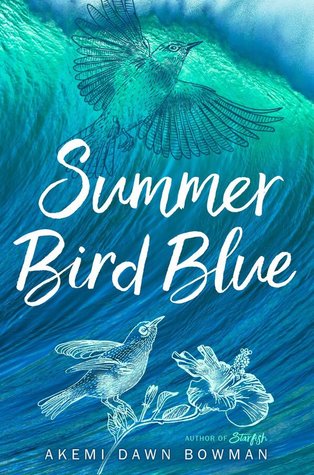 Rumi Seto spends a lot of time worrying she doesn't have the answers to everything. What to eat, where to go, whom to love. But there is one thing she is absolutely sure of—she wants to spend the rest of her life writing music with her younger sister, Lea.
Then Lea dies in a car accident, and her mother sends her away to live with her aunt in Hawaii while she deals with her own grief. Now thousands of miles from home, Rumi struggles to navigate the loss of her sister, being abandoned by her mother, and the absence of music in her life. With the help of the "boys next door"—a teenage surfer named Kai, who smiles too much and doesn't take anything seriously, and an eighty-year-old named George Watanabe, who succumbed to his own grief years ago—Rumi attempts to find her way back to her music, to write the song she and Lea never had the chance to finish.
THANK YOU Simon Pulse FOR SENDING A REVIEW COPY IN EXCHANGE FOR AN HONEST REVIEW.
Akemi Dawn Bowan wrote the most beautiful and heart wrenching book I think I have ever read. When I read the synopsis I immediately requested the book. I hardly ever read contemporary books but something about this one drew me. Probably the best decision of my life.
The most amazing story ever written. I felt so many emotions when I read this book. There was sadness, anger, pain and love. A book that managed to bring all these emotions through the pages. I loved the writing style. It felt so light but also lyrical. I loved the pauses in between the story so we could visit memories from the past. I loved how contrasting the sisters were. I loved how involved the author made me feel in their lives. Learning even the simple things about their personalities.
I felt so much of Rumi's emotions. She was often conflicted and often expressed how she felt through anger. Her emotions were all over the place but I felt the need to understand them. Her development throughout the book was definitely a favorite. She came to realize so many things. So many important things that helped her manage her feelings, understand them, and shape her understanding of herself.
Music was such a huge part of who she was. I often felt the struggle when she couldn't get herself to play an instrument or listen to the music. I especially loved the way she managed to take herself back to it. Even if it took her a long while to figure out how to do that.
I adored all the characters in this book. Kai was such a joy to read about. He made everything so laid back. He also helped Rumi come to terms with many things, including her identity. He was always there to support and help her. I loved all the other side characters as well. Mr. Watanabe added so much to the book. He had his own losses and I felt like him and Rumi got along in their own way. I kept looking forward to the chapters that he was in. Her aunt was also so extremely patient with Rumi. She never left her side even with things got harsh.
This story was just the most wonderful thing ever. I loved how complex everything felt. I was constantly drawn to the story. It made me cry by the end of it. Heavy tears and that's probably my favorite part. To have been able to just let go after going through all that. I'm officially on the lookout for any book by Akemi Dawn Bowman. Would recommend this book with all my heart.
ABOUT THE AUTHOR
Akemi Dawn Bowman is the author of Starfish (a William C. Morris Award Finalist) and Summer Bird Blue (out September 11th, 2018). She's a proud Ravenclaw and Star Wars enthusiast, who served in the US Navy for five years and has a BA in social sciences from UNLV. Originally from Las Vegas, she currently lives in Scotland with her husband, two children, and their Pekingese mix. She is represented by Penny Moore of Aevitas Creative Management.
---
Will you be adding Summer Bird Blue to your TBR? Have you ordered your copy yet?