Author: Lauren Oliver // Published: October 2, 2018
★★★.5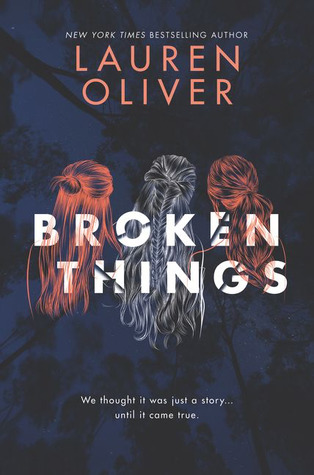 It's been five years since Summer Marks was brutally murdered in the woods.
Everyone thinks Mia and Brynn killed their best friend. That driven by their obsession with a novel called The Way into Lovelorn the three girls had imagined themselves into the magical world where their fantasies became twisted, even deadly.
The only thing is: they didn't do it.
On the anniversary of Summer's death, a seemingly insignificant discovery resurrects the mystery and pulls Mia and Brynn back together once again. But as the lines begin to blur between past and present and fiction and reality, the girls must confront what really happened in the woods all those years ago—no matter how monstrous.
Thank you Harper Collins for sending a review copy in exchange for an honest review.
Trigger Warning: Murder, abuse, animal abuse, pedophilia, self harm and violence.
The moment I read the synopsis I knew I had to read this book. Mystery has never been one of my usual genres but I figured this one was definitely worth a try.
The way the first chapter started hooked me in immediately. I was intrigued by the plot and excited to start guessing who the real murderer was. The story was told from two perspective: Brynn and Mia. Both were Summer Marks best friends. We alternate between the two most of the time. There were chapters in between with quotes from The Way Into Lovelorn.
Brynn was a favorite. She was funny (her points of view were the funniest in my opinion) She admitted to the mistakes that she made even if she didn't voice them out loud. She had flaws but so does every character. Mia was a lot more quiet and didn't really say much to most people. She stood up when something wrong was done or said so that's one thing. Both girls had their own things to deal with in this story. I liked getting to know how different they both were from each other.
The story was really easy to get into. I was interested from the beginning until the end. I played detective and kept keeping a mental profile of all the characters trying to guess who the murderer really was. I guessed who really killed Summer early on in the book but kept it aside. At some point I was 100% sure I was right. Turns out I actually was. I felt like guessing the killer really dimmed the magic of the story for me a little bit.
Overall, the story was really enjoyable. It was different than most of the book I've read. I really enjoyed the writing too. Would definitely recommend the book to those who love a good mystery.
ABOUT THE AUTHOR
Lauren Oliver is an American author of numerous young adult novels including Panic, the Delirium trilogy; Delirium, Pandemonium and Requiem, and Before I Fall, which became a major motion picture in 2017. Her novels have been translated into more than thirty languages internationally.
---
Will you be reading Broken Things?