Author: Tahereh Mafi // Published: March 6, 2018
★★★★★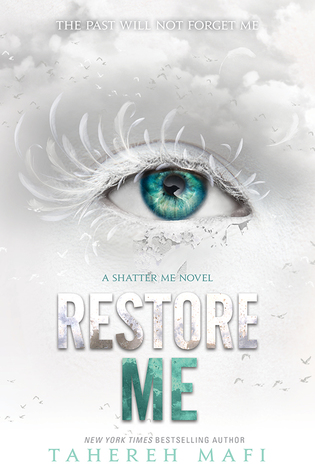 Juliette Ferrars thought she'd won. She took over Sector 45, was named the new Supreme Commander, and now has Warner by her side. But she's still the girl with the ability to kill with a single touch—and now she's got the whole world in the palm of her hand. When tragedy hits, who will she become? Will she be able to control the power she wields and use it for good?
"I cannot let the broken girl inside of me inhale all that I've become. I cannot revert back to another version of myself. I will not shatter, not again, in the wake of an emotional earthquake."
The Shatter Me series has been a favorite of mine for the past four or five years. I read back when I was in middle/high school and it never left my mind. It always felt like there was so much more to the story. The way Ignite Me ended gave off that feeling. I was so happy when Tahereh announced that there were more books, and goodness was this book a roller coaster!
Going back into this world felt so nostalgic. Got to read about the characters that I loved so much, and I was pretty surprised I still remembered their names and what they looked like. Tahereh took this story to a whole new level. I tried guessing what the events were going to be like, and guess what, I couldn't. The plot twists that were present in this book were so so much more than I ever anticipated.
"In the steady thrum that accompanies quiet, my mind is unkind to me. I think too much. I feel, perhaps, far more than I should. It would be only a slight exaggeration to say that my goal in life is to outrun my mind, my memories."
Okay, I kept the Juliette from Ignite Me in my mind the whole time. In Restore Me she's given more responsibility than she can handle. She clearly did mature a bit more than in the previous books, but you could still tell how difficult everything was for her. Being constantly doubted and finding out that manipulation was always part of the game. Lies were revealed and new secrets were unearthed. She was always trying as hard as possible to keep everything intact. The way this book ended just had me fearing for her so much.
The other supreme commanders seem to be biding their time, and I was nervous the whole time. This obviously wasnt going to be easy, but man was it confusing and shocking all at the same time. The amount of revelations that we got to know were enough to make me know for sure that "Restore Me" was exactly what this book wasn't going to do.
The whole book was narrated from two points of view. Juliette and Warner. Two of my most favorite book characters. Both gave the reader a sense of closeness to the characters. Both voiced their doubts and their deepest feelings.
As always I loved Kenji. He was one of my favorite characters ever in the first three books, and starting this one years later didn't change that all. I loved the bickering between him and Warner. The haircut seen at the beginning of the book was the best. I liked the bonding between them towards the end of the book.
"The world tried to crush you," I say, gently now, "and you refused to be shattered."
Warner made me feel heartbroken time and time again. Tahereh also added anxiety rep in this book, and it honestly meant a lot. I felt like I could truly relate to how he was feeling. It was so realistic. It felt realistic, especially for me. In this book we got to see a raw Warner. We got to read about his fears and how he was feeling in a very emotional and deep way. What transpired between him and Juliette by the end really did ruin me. I'm just hoping all this will be fixed in the next book.
Haider and Nazeera were the two new characters that were introduced in this book. There were others but honestly these two were my favorite. I loved how Tahereh added some Arabic in the book. It felt amazing to find some representation. Nazeera has become my new favorite character. Hijabi and fierce, and overall the sweetest. Haider I didn't like so much. By the end of the book my view of him hadn't changed.
The ending of the book was the most shocking. Considering that what was revealed during the book took me by surprise. The symposium, the sister, the parents, the Polaroids. The whole thing left me in such a mess. I can't wait until Defy Me. I need this whole thing to be fixed, and I can't believe we're going to have to wait until 2019 to know what happens.
ABOUT THE AUTHOR
Tahereh Mafi is the New York Times and USA Today bestselling author of the Shatter Meseries. She was born in a small city somewhere in Connecticut and currently resides in Santa Monica, California with her husband, fellow author Ransom Riggs. She can usually be found over-caffeinated and stuck in a book. Shatter Me is her first series, with television rights optioned by ABC Signature Studios; Furthermore, her first middle grade novel, is on shelves now, and Whichwood, its darker companion, will be on shelves November 14, 2017.
---
Have you read Restore Me? You can gush in the comments.