Author: Jennifer L. Armentrout // Published: October 30, 2018
★★★★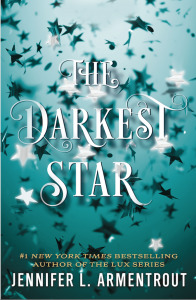 When seventeen-year-old Evie Dasher is caught up in a raid at a notorious club known as one of the few places where humans and the surviving Luxen can mingle freely, she meets Luc, an unnaturally beautiful guy she initially assumes is a Luxen…but he is in fact something much more powerful. Her growing attraction for Luc will lead her deeper and deeper into a world she'd only heard about, a world where everything she thought she knew will be turned on its head…
"There's nothing we can do other than live with the promise of tomorrow while knowing it may not come."
Thank you Netgalley and Tor Teen for sending a review copy in exchange for an honest review.
Now, I requested this book without realizing that it was a sort of spin-off. So when I realized I had a mini freak out. But as I started reading it the story really was clear for me even though I hadn't read The Lux series (which I will be reading soon).
The book had me entertained from the very first page. The author explained what happened in the previous books in a very simple way and that really helped me understand the world a lot better. Luc was very strange especially in the beginning of the book. I did grow to love him though. Evie was a very relatable protagonist. The story was very driven in my opinion. I really loved the world building and the plot twist towards the end.
Jennifer L. Armentrout pulled me into this world immediately. Her other books have officially made it to my to-read list. I'm looking forward to reading the previous books and the next one. If you're looking for a fun and quick read then this is definitely one you should consider.
ABOUT THE AUTHOR
# 1 New York Times and USA Today Bestselling Author Jennifer L. Armentrout Lives in West Virginia. She is the author of the Covenant Series (Spencer Hill Press), the Lux Series (Entangled Teen), Don't Look Back (Disney/Hyperion) and a yet untitled novel (Disney/Hyperion), and new YA paranormal series with Harlequin Teen. Jennifer also writes New Adult and Adult romance under the pen name J. Lynn. The Gamble Brothers Series (Tempting the Best Man/Tempting the Player) and Wait for You. Under her pen name, she is published with Entangled Brazen and HarperCollins.

---
Pin this!
---
Will you be picking up The Darkest Star?