Strange Grace
Author: Tessa Gratton // Published: September 18, 2018
★★★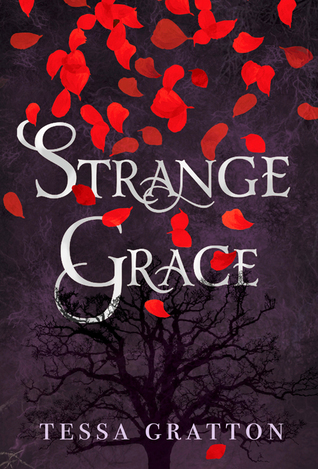 Once, a witch made a pact with a devil. The legend says they loved each other, but can the story be trusted at all?
Long ago, a village made a bargain with the devil: to ensure their prosperity, when the Slaughter Moon rises, the village must sacrifice a young man into the depths of the Devil's Forest.
Only this year, the Slaughter Moon has risen early.
Bound by duty, secrets, and the love they share for one another, Mairwen, a spirited witch; Rhun, the expected saint; and Arthur, a restless outcast, will each have a role to play as the devil demands a body to fill the bargain. But the devil these friends find is not the one they expect, and the lies they uncover will turn their town—and their hearts—inside out.
Thank you Edelweiss and Margaret McElderry Books for sending a review copy in exchange for an honest review.
"They made this bargain with the devil: Every seven years their best boy is sent into the forest from sundown to sunrise, on the night of the Slaughter Moon. He will live or die on his own mettle, and for his sacrifice the devil blesses Three Graces."
When reading the synopsis of this book I instantly fell in love with it. I also had a feeling that it would be one of my favorite reads of 2018. Sadly, it took me forever to get this book done and I have to admit that this one simply just wasnt for me.
This book is definitely atmospheric. It was like being in a lucid dream and I had no problem with that. The pacing was extremely slow for me, and I usually dont have issues with slow books but maybe I read it at the wrong time. I was often confused as to what was going on. I mean the writing was beautiful at times but I did get lost quite a bit. I also felt like the magic wasnt explored thoroughly. I felt like there was still more to figure out.
"He was bold and powerful, beautiful and dangerous, but he loved the first Grace witch, and it was from that love the bargain blossomed. This valley is made on love, little bird. Find love. Seek it, always. That is where our power resides.".
Since I had a hard time reading this I didn't really form any attachment to the characters. They were each complex in their own way though. The story picked up towards the end, and I'll admit I did enjoy the last 100 pages more than the rest. The plot twist was great since I didn't see it coming. This book definitely amazed me in how very strange it was. I cant really find other words to describe how I felt about this book. I can't seem to get my ideas across so I'll just leave it at this.
Despite not really enjoying this book I cant say this will be my last read by Tessa Gratton. Maybe this one just wasnt for me and maybe I'll enjoy some of her other books. It's all a matter of perspective. I hope those who do pick up this book enjoy it.
ABOUT THE AUTHOR
Tessa Gratton has wanted to be a paleontologist or a wizard since she was seven. Alas, she turned out too impatient to hunt dinosaurs, but is still searching for a someone to teach her magic. After traveling the world with her military family, she acquired a BA (and the important parts of an MA) in Gender Studies, then settled down in Kansas with her partner, her cats, and her mutant dog. She now spends her days staring at the sky and telling lots of stories about magic. Monthly free short stories with Maggie Stiefvater and Brenna Yovanoff at The Merry Sisters of Fate: www.merryfates.com
---
Pin this!
---
Have you read Strange Grace? What are your thoughts?