Representation is something that each of us is looking for in their own way.
It can be hard to find a book that you can resonate with. I've put together a list of books with hispanic main characters and by hispanic authors. Some have been released and some will release in 2019. Either way I hope you find new favorites.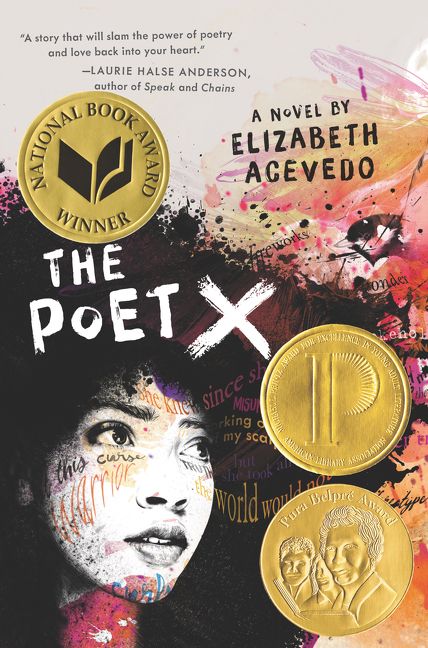 Sierra Santiago was looking forward to a fun summer of making art, hanging out with her friends, and skating around Brooklyn. But then a weird zombie guy crashes the first party of the season. Sierra's near-comatose abuelo begins to say "Lo siento" over and over. And when the graffiti murals in Bed-Stuy start to weep…. Well, something stranger than the usual New York mayhem is going on.

Sierra soon discovers a supernatural order called the Shadowshapers, who connect with spirits via paintings, music, and stories. Her grandfather once shared the order's secrets with an anthropologist, Dr. Jonathan Wick, who turned the Caribbean magic to his own foul ends. Now Wick wants to become the ultimate Shadowshaper by killing all the others, one by one. With the help of her friends and the hot graffiti artist Robbie, Sierra must dodge Wick's supernatural creations, harness her own Shadowshaping abilities, and save her family's past, present, and future.
Perfect Mexican daughters do not go away to college. And they do not move out of their parents' house after high school graduation. Perfect Mexican daughters never abandon their family.

But Julia is not your perfect Mexican daughter. That was Olga's role.

Then a tragic accident on the busiest street in Chicago leaves Olga dead and Julia left behind to reassemble the shattered pieces of her family. And no one seems to acknowledge that Julia is broken, too. Instead, her mother seems to channel her grief into pointing out every possible way Julia has failed.

But it's not long before Julia discovers that Olga might not have been as perfect as everyone thought. With the help of her best friend Lorena, and her first kiss, first love, first everything boyfriend Connor, Julia is determined to find out. Was Olga really what she seemed? Or was there more to her sister's story? And either way, how can Julia even attempt to live up to a seemingly impossible ideal?
A young girl in Harlem discovers slam poetry as a way to understand her mother's religion and her own relationship to the world. Debut novel of renowned slam poet Elizabeth Acevedo.

Xiomara Batista feels unheard and unable to hide in her Harlem neighborhood. Ever since her body grew into curves, she has learned to let her fists and her fierceness do the talking.

But Xiomara has plenty she wants to say, and she pours all her frustration and passion onto the pages of a leather notebook, reciting the words to herself like prayers—especially after she catches feelings for a boy in her bio class named Aman, who her family can never know about. With Mami's determination to force her daughter to obey the laws of the church, Xiomara understands that her thoughts are best kept to herself.

So when she is invited to join her school's slam poetry club, she doesn't know how she could ever attend without her mami finding out, much less speak her words out loud. But still, she can't stop thinking about performing her poems.

Because in the face of a world that may not want to hear her, Xiomara refuses to be silent.
Rosa is cursed by the sea–at least that's what they say.

Dating her is bad news, especially if you're a boy with a boat.

But Rosa feels more caught than cursed. Caught between cultures and choices. Between her abuela, a beloved healer and pillar of their community, and her mother, an artist who crashes in and out of her life like a hurricane. Between Port Coral, the quirky South Florida town they call home, and Cuba, the island her abuela refuses to talk about.

As her college decision looms, Rosa collides—literally—with Alex Aquino, the mysterious boy with tattoos of the ocean whose family owns the marina. With her heart, her family, and her future on the line, can Rosa break a curse and find her place beyond the horizon?
THINGS/PEOPLE MARGOT HATES:

Mami, for destroying my social life
Papi, for allowing Junior to become a Neanderthal
Junior, for becoming a Neanderthal
This supermarket
Everyone else

After "borrowing" her father's credit card to finance a more stylish wardrobe, Margot
Sánchez suddenly finds herself grounded. And by grounded, she means working as an indentured servant in her family's struggling grocery store to pay off her debts.

With each order of deli meat she slices, Margot can feel her carefully cultivated prep school reputation slipping through her fingers, and she's willing to do anything to get out of this punishment. Lie, cheat, and maybe even steal…

Margot's invitation to the ultimate beach party is within reach and she has no intention of letting her family's drama or Moisés—the admittedly good looking but outspoken boy from the neighborhood—keep her from her goal.
At night, Las Mal Criadas own these streets.

Nalah leads the fiercest all-girl crew in Mega City. That roles brings with it violent throw downs and access to the hottest boydega clubs, but the sixteen-year-old grows weary of the life. Her dream is to get off the streets and make a home in the exclusive Mega Towers, in which only a chosen few get to live. To make it to the Mega towers, Nalah must prove her loyalty to the city's benevolent founder and cross the border in a search for a mysterious gang the Ashé Ryders. Led by a reluctant guide, Nalah battles other crews and her own doubts, but the closer she gets to her goal, the more she loses sight of everything—and everyone— she cares about.

Nalah must do the unspeakable to get what she wants—a place to call home. But is a home just where you live? Or who you choose to protect?
I was chosen by the Deos. Even gods make mistakes.

Alex is a bruja, the most powerful witch in a generation…and she hates magic. At her Deathday celebration, Alex performs a spell to rid herself of her power. But it backfires. Her whole family vanishes into thin air, leaving her alone with Nova, a brujo she can't trust, but who may be Alex's only chance at saving her family.
The biggest lie of all is the story you think you already know.

The del Cisne girls have never just been sisters; they're also rivals, Blanca as obedient and graceful as Roja is vicious and manipulative. They know that, because of a generations-old spell, their family is bound to a bevy of swans deep in the woods. They know that, one day, the swans will pull them into a dangerous game that will leave one of them a girl, and trap the other in the body of a swan.

But when two local boys become drawn into the game, the swans' spell intertwines with the strange and unpredictable magic lacing the woods, and all four of their fates depend on facing truths that could either save or destroy them. Blanca & Roja is the captivating story of sisters, friendship, love, hatred, and the price we pay to protect our hearts.
Zane has always enjoyed exploring the dormant volcano near his home in New Mexico, even though hiking it is challenging. He'd much rather hang out there with his dog, Rosie, than go to middle school, where kids call him Sir Limps a Lot, McGimpster, or Uno — for his one good leg. What Zane doesn't know is that the volcano is a gateway to another world and he is at the center of a powerful prophecy.

A new girl at school, Brooks, informs him that he's destined to release an evil god from the ancient Maya relic he is imprisoned in — unless she can find and remove it first. Together they return to the volcano, where all kinds of crazy happens. Brooks turns into a hawk, a demon attacks them in a cave, and Rosie gives her all while trying to protect Zane. When Zane decides to save his dog no matter the cost, he is thrust into an adventure full of surprising discoveries, dangerous secrets, and an all-out war between the gods, one of whom happens to be his father. To survive, Zane will have to become the Storm Runner. But how can he run when he can't even walk well without a cane?
With her daughter to care for and her abuela to help support, high school senior Emoni Santiago has to make the tough decisions, and do what must be done. The one place she can let her responsibilities go is in the kitchen, where she adds a little something magical to everything she cooks, turning her food into straight-up goodness. Still, she knows she doesn't have enough time for her school's new culinary arts class, doesn't have the money for the class's trip to Spain — and shouldn't still be dreaming of someday working in a real kitchen. But even with all the rules she has for her life — and all the rules everyone expects her to play by — once Emoni starts cooking, her only real choice is to let her talent break free.
---
Are any of these on your TBR?