Fantastic Beasts and Where to Find Them was one of my favorite movies of 2016.
I've seen it about 3 times now and I'm planning to rewatch it this year too. There were so many things that I loved about this movie and this post will be part of my #Potterheadreadalong19 challenge.
Newt's Suitcase
Considering that it had been a long time since we had gotten another movie set in the Wizarding world, Newt's suitcase was one of my favorite aspects! I loved seeing the magical creatures inside and how big it is in there.
Nifflers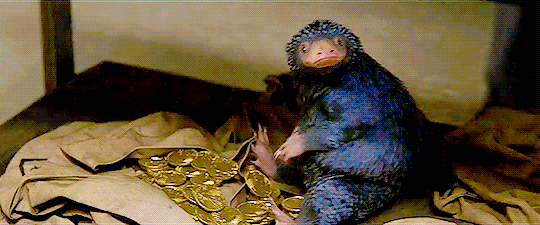 mischievous little things, Nifflers. Although I was pretty sure I wouldn't be able to handle them I couldn't stop thinking about how much I would love to have a baby Niffler (and we got to see them in Crimes of Grindelwald).
Autism Spectrum
Everytime I think about Newt he strikes me as autistic. It just felt obvious from the moment we met him. Now, J.K. Rowling hasn't confirmed this (as far as I know), but I read an article where Eddie Redmayne also pointed this out. I love Newt with all my heart, and I think having a character on the Autism spectrum is wonderful for fans to connect with. I know of a few people who have stated this.
Magical Creatures!
Since the Harry Potter days, the magical creatures have always been a favorite. I loved seeing Newt dealing with them and looking after them. I loved the variety in magical creatures too!
Obscurus
Seeing an Obscurus was quite unique. I've always wanted to go deeper into this concept, and seeing it on-screen was a good take. When a magical child tries to suppress their magical abilities (or are abused into doing so) you get an Obscurial. What really happened to Ariana Dumbeldore that we don't know?
Magic
Although I've seen Harry Potter about a thousand times I still couldn't get over the magic. Being back in the wizarding world brought back so many nostalgic memories. I was worried that the movie wasn't going to be magical enough but it was perfect!
---
Free Printable Bookmarks

Made these a few years back. Really enjoyed making them, and I hope you enjoy using them 😊
If you happen to print these out do share them with me on Twitter, Instagram or email!
---
What did you love about Fantastic Beasts?