Author: V.E. Schwab // Published: January 19, 2016
★★★★
Kell is one of the last Antari—magicians with a rare, coveted ability to travel between parallel Londons; Red, Grey, White, and, once upon a time, Black.

Kell was raised in Arnes—Red London—and officially serves the Maresh Empire as an ambassador, traveling between the frequent bloody regime changes in White London and the court of George III in the dullest of Londons, the one without any magic left to see.

Unofficially, Kell is a smuggler, servicing people willing to pay for even the smallest glimpses of a world they'll never see. It's a defiant hobby with dangerous consequences, which Kell is now seeing firsthand.

After an exchange goes awry, Kell escapes to Grey London and runs into Delilah Bard, a cut-purse with lofty aspirations. She first robs him, then saves him from a deadly enemy, and finally forces Kell to spirit her to another world for a proper adventure.

Now perilous magic is afoot, and treachery lurks at every turn. To save all of the worlds, they'll first need to stay alive.
---
"I'd rather die on an adventure than live standing still."
A Darker Shade of Magic was an absolute wonder!
I've been told to read this series for years, but only got around to it this year. I've read a few of V.E. Schwab's other books, and I had a feeling I was going to love this one too.
This book seemed a bit different than her other works for me. I felt like it took me a while to get into the story. Which wasn't what I faced when reading her Villains and Monsters of Verity duology. It was just as good but needed a lot more focus.
The world of A Darker Shade of Magic is complexly built with it's magic system and multiple London's. I adored everything about this book, but the pacing was a bit slow. I understand that there's a lot of world building and explaining that needs to be done, and I'm usually alright with books that are a bit on the slow side. It's just that after a while I was worried I would put it down and never come back to it again. Luckily I pushed forward!
Slow pacing aside, I loved the characters! Lila Bard was a total badass, and I just loved reading from her point of view throughout the book. Also there was a lot of stabbing. My other favorite character was Kell. Kell I would die for and will protect till the ends of the earth. Moving on from that, I enjoyed the story and the events that took place. Going deeper into the book things got more exciting. The events seemed more fast paced, and I felt anxious seeing things unfold. Especially the last part of the book. The ending though made the book feel like a standalone. I'm still not sure what will take place in the next book, but I'll definitely be continuing the series.
---
ABOUT THE AUTHOR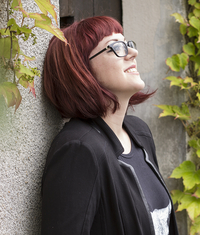 Victoria Elizabeth Schwab is an American fantasy author best known for her 2013 novel Vicious, the Shades of Magic series, and for her children's and young adult fiction published under the name Victoria Schwab.
---
Pin this!
---
Have you read A Darker Shade of Magic?