Author: Renee Ahdieh / Published: October 8, 2019
★★★.5
In 1872, New Orleans is a city ruled by the dead. But to seventeen-year-old Celine Rousseau, New Orleans provides her a refuge after she's forced to flee her life as a dressmaker in Paris. Taken in by the sisters of the Ursuline convent along with six other girls, Celine quickly becomes enamored with the vibrant city from the music to the food to the soirées and—especially—to the danger. She soon becomes embroiled in the city's glitzy underworld, known as Le Cour des Lions, after catching the eye of the group's leader, the enigmatic Sèbastien Saint Germain. When the body of one of the girls from the convent is found in the lair of Le Cour des Lions, Celine battles her attraction to him and suspicions about Sèbastien's guilt along with the shame of her own horrible secret.

When more bodies are discovered, each crime more gruesome than the last, Celine and New Orleans become gripped by the terror of a serial killer on the loose—one Celine is sure has set her in his sights . . . and who may even be the young man who has stolen her heart. As the murders continue to go unsolved, Celine takes matters into her own hands and soon uncovers something even more shocking: an age-old feud from the darkest creatures of the underworld reveals a truth about Celine she always suspected simmered just beneath the surface.

At once a sultry romance and a thrilling murder mystery, master storyteller Renée Ahdieh embarks on her most potent fantasy series yet: The Beautiful.
"I've heard many people say that tragedy shapes us. But I am not the worst thing that's ever happened to me, nor am I the worst thing I've ever done. Nothing in life is that simple."
I can't describe to you the excitement I felt when it was yelled all across book Twitter that vampires would be making a comeback. I got flashbacks of teenage me watching Vampire Diaries and Twilight. I was clearly living for the moment and I got even more excited when I heard about this book.
I was really anticipating the vampires in this one and although we got some mentions of them we didn't exactly get to see them. Don't get me wrong I really enjoyed this book I just wish we got more vampires. I did do my research before starting and so I kind of knew that it would focus more on a murder mystery and there wouldn't be much vampires. That's probably why I didn't mind it so much.
This is a murder mystery and a historical fiction. I hardly read historical fiction books but damn did the author write some pretty good stuff. The description the magical feel to everything was absolutely wonderful. The Court of Lions is my favorite thing in this book! They're all so witty and fantastic and maybe a little creepy (okay, probably a lot more than a little) but I loved them. I'll admit that I'm not exactly a romance genre person but I do love it when it's mixed with fantasy books (as it most often is). It wasn't heavy in this one and it was more of a slow burn which was fine for me.
Sebastian was a favorite! Love the banter and sarcasm. Our main character Céline was also very defiant and fierce. There were moments when she annoyed me just a little bit but I liked her most of the book. To be honest everyone in this book was a mystery. Céline to the people around her and the Court of Lions to her. I liked that there was a sense of danger looming everywhere it made the setting so much more interesting. And might I add that some characters are interracial. The book ended on a plot twist but it made me so so excited to pick up book 2!
---
ABOUT THE AUTHOR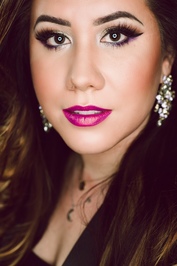 Renee Ahdieh is an American-Korean author, best known for her New York Times best-selling series The Wrath and the Dawn. Her books have been translated into many languages. She graduated from the University of North Carolina at Chapel Hill
---
Have you read The Beautiful?