Welcome back to another interview under my Unapologetically Muslim project! Today I'm welcoming a wonderful middle grade and children's books author, Reem Faruqi! Her latest book, Unsettled, released earlier this month, and she has other wonderful books out in the world. Read on to find out more about Reem Faruqi!
---
Thank you so much for agreeing to this interview! I want to start by welcoming you to the blog, I'm so happy to have you here today. The first question I would like to ask is, what inspires you to write your stories?
Readers inspire me. I love when readers fall in love with a book I write. It means the world! Also, there is something magical about getting your words and heart on a page.
—
I also want to ask about representation, how important was it for you to bring Muslim rep to the forefront? To have unapologetically Muslim protagonists in your book?
It was very important to me. I love seeing my Muslim experiences reflected in my book. When I write my book, I am initially writing it for myself and I'm not over explaining any Muslim terms or sayings. It feels quite freeing.
Once I sit down for the editorial stage, I will usually tweak a tiny bit here and there, but the main message will hopefully be there. As a Muslim author, there are many practices (such as the five daily prayers) so incorporating them into my writing and normalizing them is what I enjoy to do.
—
Do you have any advice that you would like to pass on to Muslim writers?
For your first draft, write it just for you. I feel like that version will be the most honest and raw.
—
What do you hope your readers will take away from your books?
Pride in their faith, a connection to others, all the emotions, and a strong sense of family.
—
Not exactly a book related question, but how have Ramadan preparations been for you? Do you have any favourite traditions and dishes during this month?
One of my picture book's release date got delayed so I have two books that will be launched within Ramadan – UNSETTLED and AMIRA'S PICTURE DAY! Needless to say, I have not been doing any real preparations or decorations. I am just trying to get through each day, one fast at a time, while juggling emails!
—
My brother and mother make delicious samosa filling and instead of folding it into a samosa shape they roll it up into a spring roll and call them spring roll samosas. My daughters have been calling them springosas so that could be a new tradition! I also love drinking refreshing rooh-afza milk while I eat a springosa!
---
Please make sure you check out Reem Faruqi's amazing books!
(Click on the image to be directed to the Goodreads page)
---
About the Author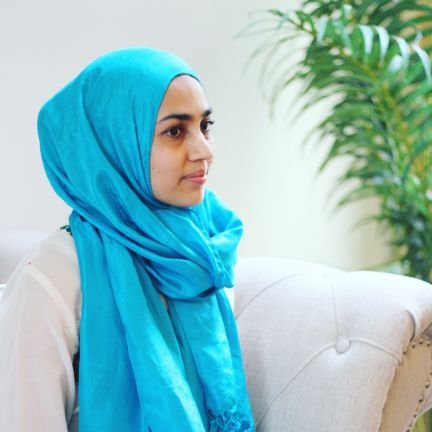 Reem Faruqi lives in Atlanta with her husband and three daughters. She is the award-winning children's book author of Lailah's Lunchbox, a book based on her own experiences as a young Muslim girl immigrating to the United States. After surviving Atlanta traffic and the school drop off, Reem spends her days trying to write, but instead gets distracted easily by her toddler, camera, and buttery sunlight. You can find her at www.ReemFaruqi.com or on Instagram or Twitter.