Author: Justin A. Reynolds // Published: September 22, 2020
★★★★★
Justin A. Reynolds, author of Opposite of Always, delivers another smart, funny, and powerful stand-alone YA contemporary novel, with a speculative twist in which Jamal's best friend is brought back to life after a freak accident . . . but they only have a short time together before he will die again.

Jamal's best friend, Q, doesn't know he's about to die . . . again.

He also doesn't know that Jamal tried to save his life, rescuing him from drowning only to watch Q die later in the hospital. Even more complicated, Jamal and Q haven't been best friends in two years—not since Jamal's parents died in a car accident, leaving him and his sister to carry on without them. Grief swallowed Jamal whole, and he blamed Q for causing the accident.

But what if Jamal could have a second chance? An impossible chance that would grant him the opportunity to say goodbye to his best friend? A new health-care technology allows Q to be reanimated—brought back to life like the old Q again. But there's a catch: Q will only reanimate for a short time before he dies . . . forever.

Jamal is determined to make things right with Q, but grief is hard to shake. And he can't tell Q why he's suddenly trying to be friends with him again. Because Q has no idea that he died, and Q's mom is not about to let anyone ruin the miracle by telling him. How can Jamal fix his friendship with Q if he can't tell him the truth?
---
Thank you Katherine Tegen Books for the gifted review copy!
When I say Justin A. Reynolds is one of my favorite authors, I mean he's one of my favorite authors. No questions asked. I read Opposite of Always last year and it was one of my favorite books! This was definitely no exception. I've come to expect two things from Justin A. Reynolds. A lot of laughing and a lot of crying. I mean I finished the book I ended my day happy and sad all at the same time.
The book is contemporary but has a bit of a sci-fi feel to it as well. I'll admit one thing. I loved Opposite of Always so much that I added this book as soon as I saw it without even really reading the synopsis. Like I had a faint idea but nothing really concrete. And there I am, reading the book and then I get hit with this little sci-fi moment and I'm a little surprised and all intrigued. Anyways, this was a very wholesome story. We've all had those friendships that we wish had gone different and what do you do when you get a second chance?
Jamal had to address a lot of things in this one. It wasn't easy to have gone through what he has and it consumed him in a way. I was really rooting for him and Q to reconcile. There were so many scenes that I absolutely loved. Jamal is such a sweet person and him and Q being friends just made my heart squeeze. The story was incredibly sad and I teared up way too many times for it to be normal, but it was also a very beautiful story. I finished the book feeling sad but also content. I'll be honest I still don't have enough words to describe this book and my brain hasn't processed everything yet. There's so much about finding family and realizing the people who always have your back. There was so much growth and love and that's honestly all I wanted. I will add one last thing, if you want a story that captivates and makes you feel everything then this is it.
Please do yourselves a favor and add this on Goodreads and pre-order a copy!
---
About the Author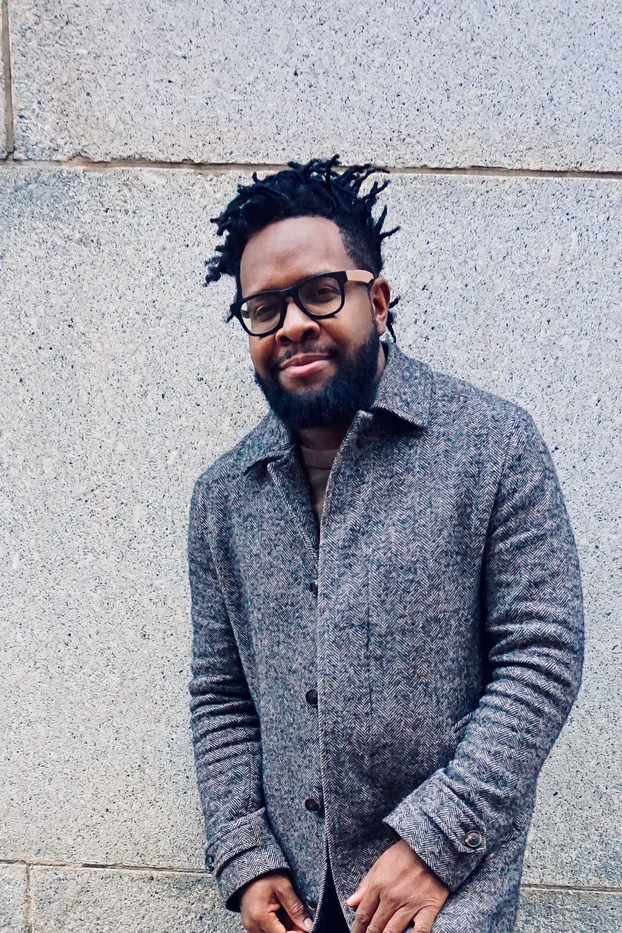 Justin A. Reynolds has always wanted to be a writer. The earliest documentation of this desire was recorded on a sheet of green, learn-how-to-write-with-a-jumbo-pencil ruled kindergarten paper, which can be found prominently displayed in his mom's office. OPPOSITE OF ALWAYS, his debut novel, was an Indies Introduce Top Ten Debut, a School Library Journal Best Book of 2019, translated in 17 languages, and is being developed for film with Paramount Players. He hangs out in northeast Ohio with his family and likes it, and is probably somewhere, right now, dancing terribly. Or as his sister likes to say "doing the sports". His second novel EARLY DEPARTURES will publish in September 2020.

---
Have you added Early Departures to your tbr?